Oil Painting Expressions - OPE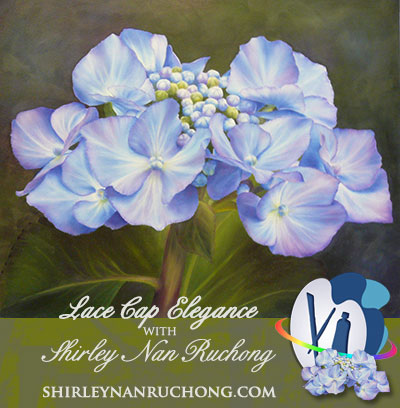 I am pleased to be able to share with you that I am a part of a new Online E-Course created specifically for Oil Painters. The website is Oil Painting Expressions. How exciting to have an opportunity to paint 12 distinctly beautiful designs for one low price! Your teachers are international artists AND you have a full year to paint them!
The roster of teachers include Trudy Beard-Lazaroe, Arlene Beck, Robyn Brooks (Australia), Dorothy Dent, Jeanne Downing, Mary Jo Leisure, Rika Muramatsu (Japan), Pat Parker, Nilda Rodriguez, Cheri Rol, Patsy Schultis, and myself. I will be teaching Lace Cap Elegance, shown above. Diverse subjects and styles blended with passion. Won't you join me? To sign up just click on the underlined links and you will be directed to the Oil Painting Expressions website!
SUPPLIES NEEDED FOR THIS CLASS:
SURFACE
8x10 Ampersand Gessobord - tempered Masonite with a coat of acrylic already applied. Any depth of your choice. 1/8" will fit into a frame or you may prefer a cradle board that does not require a frame.
WINSOR-NEWTON OIL PAINTS:
Titanium White (TW), Cadmium Yellow Pale (CYP), Alizarin Crimson (AC), Permanent Rose (PR), French Ultramarine Blue (UMB), Prussian Blue (PB), Phthalo Turquoise (PT), Cadmium Green Pale (CGP), Burnt Umber (BU),
BRUSHES – use only shorter bristles – not the longer type.
Scharff Sables Series 145 Sharpie (short bristle) Sizes: 1 – 12
OR
Loew Cornell Chisel Blender Series 7450 (synthetic) 1 - 12
Loew Cornell Rake Series 7520 ⅛" and ¼" (use this brand ONLY!)
SUPPLIES
Background Color: Deco Art White Wash
Sand Paper – black wet/dry (about a 400 grit),
3" long fine sponge roller (available at Home Depot),
¾" wash brush,
Tracing paper,
Large palette paper 11x14 - I use a glass palette over cardboard that has been painted the background color – Place inside Masterson Palette Keeper
Stylus,
Palette knife – prefer a short blade
"Mr. Sticky" (Paper Tak – white. Best product is Hobby Lobby's brand),
Winsor Newton Blending and Glazing Medium (BGM),
Small container with lid (for BGM),
Dry Eraser (optional),
White Graphite
Odorless turp (I prefer Winsor Newton Sansodor Turp),
Faux Meister Brush Soap (use after cleaning brushes with odorless turp. Cleans out remaining paint but does not leave sable brushes with fly-away hair!),
Reducing glass (optional), Lint free paper towels (VIVA or blue Shop Towels work well
GENERAL PAINTING INSTRUCTIONS
Preparing Wood
1. Fill any holes or cracks with Wood Filler. When dry, sand. Seal wood with one coat of Wood Sealer using ¾' wash brush. Sand to smooth grain but not mirror smooth; tack with towel to remove sawdust. Wash out brush.
2. PAINTED BACKGROUND: apply one coat of acrylic with ¾" wash brush. If color will not flow smoothly then brush mix a small amount of water into paint to thin down. Using a fine sponge roller and very light pressure, roll over surface. Change direction in order to keep surface even. You are looking for a very fine texturing for the painting surface. Roll until nearly dry. It should have an eggshell appearance. If this is not the appearance after it dries then you will need to sand and repeat the procedure. Dry well.
3. Apply second coat of Acrylic, slightly thinned, with ¾" brush. Roll until dry,
4. Trace pattern onto tracing paper. Center pattern onto surface and trace, using graphite and stylus. If graphite does not show or skips then the surface is still damp. If necessary rub surface with dry eraser to reduce the intensity of the graphite lines. You should be left with dark enough lines to see the design.
5. If you are tracing over a light background with the light gray graphite and you cannot see the lines clearly just rub over a dusty area (high shelves are great!) then rub over the design. The graphite lines will hold the dust making the appearance darker.
Primed Metal
1. Primed metal does not require any more prep than a very light sanding to smooth out any bumps. Do not sand so hard that you remove the priming. If left untreated then you might experience rust down the road. To reprime spray with a good rust inhibitor product.
2. Coat the primed metal with acrylic of choice as in "Preparing Wood" step 2-5.
FYI:
In order to understand the overall color of your acrylic background, to determine if it is warm or cool and what family it falls into, mix it in oils. This will also help you determine which blue works best when mixing Leaf colors.
The Reducing Glass is an invaluable tool in my kit. Can't paint without it! Many times, as you are painting, you need to place the piece several feet away to achieve a better perspective on how the colors and values are coming together (in a class one cannot always depend on a table mate for an objective opinion and most of the time you are painting alone!). This tool gives you that without having to get up all the time! Viewing your painting through the Glass tells you immediately if you are on the right track or need to make adjustments.
Mr. Sticky (Paper Tak® - use Hobby Lobby if available): Stretch out to make pliable, ball it up then use to pick up wet paint placed where you don't want it! Also flatten out and use to remove paint from mops and rake without going into turp.
Rake: Use this brush to soften blending after chisel blending between values. I use it more now than a mop brush. If adding a colored edging to flower petals use the Rake to pull down this color into the base color. YOU MUST WIPE THE BRUSH, ON MR. STICKY, AFTER EACH STROKE OR YOU WILL CARRY COLOR WHERE YOU DO NOT WANT IT!
1. If the rake cannot move the paint then you have not used enough paint– reapply values and proceed.
2. If the rake blends the values together, creating the appearance of one or two values, then you have used too much paint. Place a single-ply of tissue over the surface and brush over, lightly. This will remove a significant amount of paint. Reapply values and proceed with rake.
3. The 1/8" rake will move paint more readily – great for using on the edge of the petals. The ¼" rake is great to use to soften the top layer of paint – like a mop. Also is best to use on larger designs.
Dry Eraser: a product used by graphic artists, architects, etc. to lighten tracing lines. It is a malleable bag filled with extremely fine particles of rubber and we use it to rub over graphite lines until the intensity is removed. There is still enough to see to paint.
~~~~~~~~~~~~~~~~~~~~~~~~~~~~~~~~~~~~~~~~~~~~~~~~~~
Shirley offers seminars at her home studio featuring well known teachers and is also available to teach for your Chapter or painting group. Please contact Shirley if you are interested in the upcoming seminars or scheduling her for your group.
SHIRLEY'S SEMINARS
I would love to teach for your chapter or group!
The daily fee is $350 per day.

The host's responsibilities are transportation, food, and sleeping accomodation.

I will provide premixed oil paints (Winsor Newton brand) and full pattern with supporting pictures.

The surface is up to the artist.

I will provide the information as to where surfaces can be purchased if requested.

FYI: For all the designs Loew Cornell Filbert Rake brushes (1/8" and 1/4") are required. I can provide a source for these brushes (no other brand will do - sorry!).

Upon the signing of the contract I will furnish the supply list and pattern.
To choose the design go to "Shop Online" then "Packets".
All designs listed are available to be taught.

The length of the class as well as skill level is listed next to the name of the design.

The

skill levels

are also grouped under the heading of "Packets" with the designs that fall into those levels. This might make it easier to choose!

Refer back to the Packet section for more information about each design.
SKILL LEVEL:
Beginner:

new to the

medium

and, perhaps, the tools of the trade!

Advanced Beginner:

has had some instruction in the medium and understands the basics of how to use a brush!

Intermediate:

Has had instruction in the medium and has good painting skills.

Advanced:

This is your medium and you know how to paint!
---
Shirley Nan Ruchong, CDA
2440 Frank Street, Eureka, CA 95501
Phone: 707-445-1512 - Email: Shirley@ShirleyNanRuchong.com