I am so pleased that you have taken the time to stop for a visit in my World!

I have fallen in love with the style of "contemporary realism" - painting a subject and making it look like a photo. I find that it is a style that challenges me and enjoy that others like it also! I am doing a lot of florals but know that eventually I will branch out! It is very exciting for me to take what God has given me and apply it to His creation that speaks to me most! You can check on my progress periodically by accessing the "Gallery Collection" tab.

Are you interested in taking painting classes? I teach classes at my home studio - Tuesday morning and evening are mixed mediums; Tuesday afternoon is watercolor and Monday afternoon is oils. I can offer you instruction in oils, acrylics and watercolor. Call me or contact me by email!

Notecards and Refrigerator Art featuring my artwork are available.

Tiles, magnets, dishes, plates, etc. are some of the new surfaces I am painting on with Alcohol Inks! A joyous medium and SO colorful! Check them out!

I have added "Crown Jewels" - Christmas ornaments that are decorated from the inside with mica powders! SO lovely and every one an original! Check "Shop Online" for more information.

"Early Morn" was purchased by the Society of Decorative Painters 2009-2010 Board of Directors as a gift for outgoing President Nancy Genetti.

Happy Painting to you all!
Shirley
"Paint What You Love!!"
Join me on Facebook! http://www.facebook.com
NOTE: My webpage/shopping cart works only on Internet Explorer. If you do not have Internet Explorer you may place your orders by emailing me!
---
Something new is happening in my world!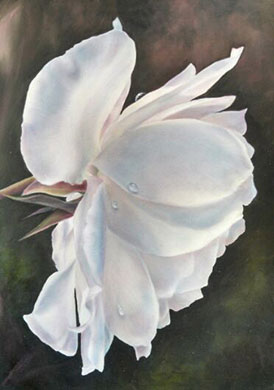 Please click on the tab for Oil Painting Expressions to find out about this new adventure!
---
Interested in seeing my art sold locally?
Framed, floral oil paints are shown at
Trinidad Art Gallery
490 Trinity St.
Trinidad, CA 95570
707-677-3770
Alcohol Designs are shown at
Many Hands Gallery
438 - 2nd St.
Eureka, CA 95501
707-445-0455
and
Strawberry Rock Gallery
343 Main St.
Trinidad, CA 95570
707-677-5151
~~~~~~~~~~~~~~~~~~~~~~~~~~~~~~~~~~~~~~~~~~~~~~~~~~~~~~~~~~~~~~~~~~

Want to know more about the art form of
Decorative Painting?

Visit www.decorativepainters.org.

Society of Decorative Painters
~~~~~~~~~~~~~~~~~~~~~~~~~~~~~~~~~~~~~~~~~~~~~
---
Shirley Nan Ruchong, CDA
2440 Frank Street, Eureka, CA 95501
Phone: 707-445-1512 - Email: Shirley@ShirleyNanRuchong.com